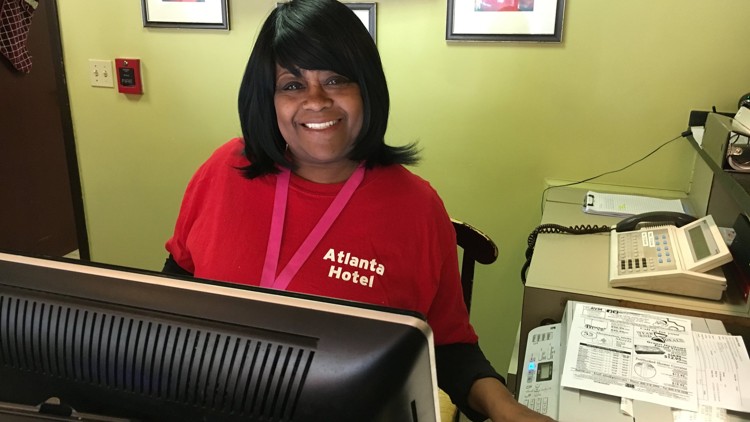 Why are you walking around with a beer in your hand in the middle of the day? Don't you have anything you can do productive?
Ali Jamal's questions stopped Barbara Collins cold. Nearly a year had passed since her common-law husband, James, had succumbed to cancer. To cope, she drank Coors Light daily.
But in the months since he had worked the front desk at the Atlanta Hotel, trying to get his business Stablegold Hospitality off the ground, Jamal had seen something in Collins and this wasn't it.
"She was sharp," Jamal said recently. "She seemed like she had a lot of things she could bring to the table."
Jamal, a native of Vancouver, Canada, had seen other single mothers struggle to make ends meet but who were able to overcome their circumstances, including his own mother.
"I know firsthand her struggles on a day-to-day basis," he said.
And so when he listened to Collins and the other tenants, many of them single mothers, he saw his own mother and the possibility for a brighter future.
"What are you doing?" he asked Collins that day.
"Are you serious?" Collins shot back.
"Get yourself together and I promise I will give you the opportunity to succeed."
From that moment on, Barbara Collins' life started to change. She took Jamal's promise and, as he said, "ran with it."
Collins' story begins like that of so many other Americans — 63 percent have no emergency savings — who abruptly lose their jobs and end up homeless.
Collins, who'd never married but spent nearly half her life with James Gates, was a cafeteria worker at North Springs High School when Gates suddenly fell ill.
His side ached constantly. When Collins finally convinced him to see a doctor, Gates needed emergency care.
Doctors told him his colon was blocked and he'd need surgery to clear things up. The surgery was a success, but they discovered another problem: Gates had stage 4 liver cancer.
Collins was sure that meant the man she knew as her husband was dying, but doctors gave her hope.
It was September 2011. Gates would remain in the North Fulton Hospital another 30 days before doctors released him to go home.
Two months later, he was strong enough to begin chemotherapy treatments, but Gates never got better.
He died May 25, 2012, with Collins holding his hand.
"I watched him just fade away," she said.
Collins applied for and received Social Security benefits for their then-12-year-old daughter Samaiah. With the summer over, she prepared to return to work at North Springs High School, but when she called in, there was more bad news.
Collins had been terminated for job abandonment even though she'd worked through the end of the school year, minus four days to be by Gates' side when he died.
She fell into a deep depression, and for the next year, she and her daughter managed on a $700 Social Security benefit, food stamps and help from North Fulton Community Charities, the same agency that referred her to the Atlanta Hotel, one of six Stablegold properties.
It was there that she met owner Ali Jamal.
When he offered her a job a year after Gates' passing, Collins was ready to work to change her life.
"I don't think I slept at all that night," she said.
At exactly 6 a.m. the next day, she crawled out of the king size bed she shared with Samaiah, dressed, and after watching her daughter board the school bus, crossed the street to take the 58 bus to the North Springs MARTA station.
From there, she would make the journey to Little Five Points, then board the 186 to Candler Road and the A2B Budget Hotel. Collins worked there for a year before finally taking another housekeeping position here in Roswell at the Atlanta Hotel just off Holcomb Bridge Road.
It's been a year and a half since Collins had to make the nearly two-hour journey to Decatur, but her life is better for it.
"After I started getting paid, it felt good," she said. "I feel like now I can save."
And hope.
With her daughter scheduled to graduate from high school in 2018, Collins said she's looking forward to sending her off to college and perhaps one day becoming a homeowner.
Without Jamal, one thing seems certain — Barbara Collins might still be walking the street with nowhere to go, drinking Coors Light from a paper bag.
"My life is so much better because of him," she said.
Jamal hadn't planned on saving Collins. He'd simply taken a page from Wal-Mart and the Waffle House and created a first-of-its-kind hotel business model that places a focus on volume rather than room rates.
His initial goal was simply to provide affordable housing. In short order, he discovered that about 20 percent of his customers were like Collins, down on their luck and unable to pass a credit check or make a deposit to get permanent housing.
"When you work the front desk at this hotel, you get to see hardworking people just trying to make it," he said. "If you have the means to help them, I think you should."
And so that's what Ali Jamal does.
Stablegold Hospitality
Family owned and operated, Stablegold Hospitality boasts a portfolio of nine independently operated hotels as well as additional residential and commercial properties based in the United Kingdom, Canada and the United States.
Source: Atlanta Journal Constitution